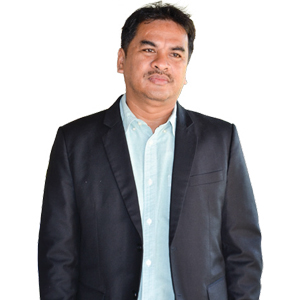 Rodzi Ahmad, CEO
Allo Technology, formerly known as Setia Haruman Technology Sdn. Bhd. has been providing "Open Access Network" business model to telcos and broadband service providers in Cyberjaya for more than a decade and a half. The company was established in 1999 and began its operations providing smart building automation solutions.
To this day, in continuing their legacy, Allo Technology provides network infrastructure, broadband internet, media display, smart city infrastructure, and a range of other cutting-edge ICT (Information and Communication Technology).
Internet service providers (ISPs) within the region are often fraught with many challenges such as price wars, establishing a brand name, creating value and credibility for the brand, competing with mainstream ISP competitors, and other setbacks due to the lack of exposure to 'Open Access Service infrastructure'.
Allo Technology addresses the landscape issues at hand, more proactively, given its strong foundation of experience and understanding of the market terrain. The company manages their Opex and Capex by deploying reliable and stable equipment that yield lower operational and maintenance cost in the long run; enabling ISPs be more competitively priced.
"By working alongside with us, ISPs can better position themselves and surge ahead in the market," says Rodzi Ahmad, CEO at Allo Technology. The company makes an effort to convince more service providers to participate in Open Access Services, as it is an easy and cost-effective way for the ISPs' business operation. In addition, Allo Technology enables connectivity services to cellular and data centre providers as well.
Moreover, Allo Technology offers leading broadband service, City Broadband—the first residential 1Gbps broadband package in the country—having a high resiliency fibre network and equipment, which is on par with industry standards.
What further cements the compelling appeal of their offering is its affordability. The current residential entry package plans of 50Mbps and 1 Gbps are priced at RM79 and RM199 respectively.

Additionally, Allo Technology offers other managed IT services like Cyberjaya Metro Fibre Network (CMFN) that provides Metro Ethernet bandwidth capacity and fiber connectivity on a carrier-neutral and open-access network concept. Malaysia's leading telco providers and multinational companies currently use CMFN.

The company also manages the network infrastructure services for Bangsar South Commercial Center. They operate as a one-stop centre for queries from end users pertaining to fibre connectivity within the development.

Another game changing offering by Allo technology is its "Open Access Multi Telco" network environment for residential spaces. This gives the opportunity to home users to choose the ISP of their choice. Each house is able to have multiple service providers concurrently, allowing the users to more systematically compare between services against the offered package, or simply just enjoy a host of different ISPs

Since its inception, Allo Technology has served many clients and has undertaken many projects. One such example is the company providing smart community solution to one of the leading property developers in Cyberjaya. The solution includes features such as high speed Wi-Fi Service at the recreational park, Panic Button, Visitor Management, Facilities Booking, Bulletin Board, Residents Feedback and Complaints Management, and CCTV surveillance system. All these features can be accessed via a single community mobile app that proves useful for residents to monitor their kids at the recreational park."

Amongst the more recent projects by Allo Technology, is the complimentary 500 Mbps WiFi services at "Launchpad Cyberjaya" (co-working space) specifically targeted at aiding startups. This encourages startups to operate within a high-speed broadband ready environment. Moreover, with their Giga speed broadband service, many clients who were looking for high bandwidth consumption, such as animation companies, have greatly benefitted.

Allo Technology, being a smart city infrastructure expert, has recently embarked on a program to introduce full-motion smart digital displays called CyberScreen. "We are implementing data analytics that integrates the LED media display and 'Wi-Fi counter' via our City Wi-Fi for Cyberjaya. The data collected will be able to compute the traffic of people passing by and in what time and direction the activity took place. This data will be then analysed and churned out for study in the field of advertising as well as other fields for enhancing the livability of the city," concludes Rodzi Ahmad."